Polarised Chameleon Sunglasses
Do you want to enjoy the beauty of the world without being bothered by the glare of the sun? Do you want to protect your eyes from harmful UV rays and enhance your vision in different light conditions? Do you want to look stylish and fashionable while doing so? If you answered yes to any of these questions, then you need the Polarised Chameleon Sunglasses.
The Polarised Chameleon Sunglasses are not your ordinary sunglasses. They are specially designed for driving, fishing, beach, travel, and outdoors activities. They have HD polarized lenses that block 100% of UV400 rays, reduce glare, and improve contrast. They also have photochromic technology that automatically adjusts the lens color according to the intensity of the sunlight. They can change from solid grey to yellow in seconds, making them suitable for day and night driving.
The Polarised Chameleon Sunglasses have a rimless design that gives them a sleek and modern look. They are made of metal alloy frame and rubber tip that are durable and lightweight. They have silicone nose pads that are adjustable and ultra soft, providing zero pressure on your nose bridge. They also have spring hinges that allow flexible temple opening, ensuring a comfortable fit for any face shape.
The Polarised Chameleon Sunglasses are not only functional, but also fashionable. They have a vintage design that is retro and trendy, adding a touch of elegance and charm to your outfit. They come in two colors: gunmetal and black, which can match any style and occasion. They are also factory direct price, which means you can get them at an affordable and reasonable cost.
The Polarised Chameleon Sunglasses are the perfect accessory for anyone who loves driving, fishing, beach, travel, and outdoors activities. They are the ultimate combination of quality, performance, and style. They are the best gift for yourself or your loved ones who appreciate the beauty and safety of the world.
If you are interested in buying the Polarised Chameleon Sunglasses, you can order them online from our website or visit our nearest store. You will not regret investing in these amazing sunglasses that will enhance your vision and personality.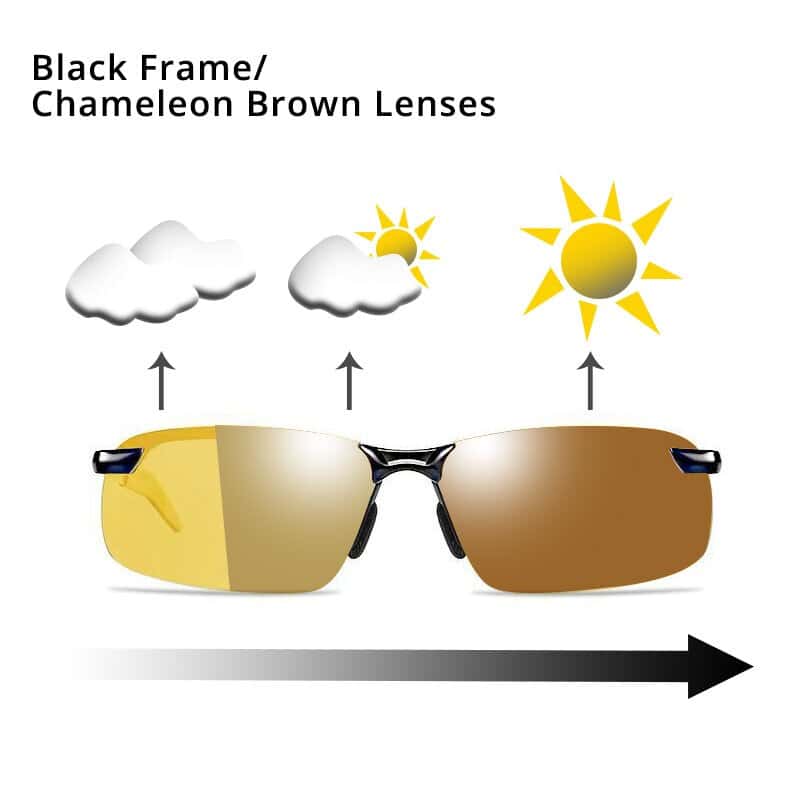 What are polarized lenses?
Polarized lenses are transparent pieces of material, usually glass or plastic, that block certain types of light waves. Sunglasses and camera lenses are often polarized to reduce glare from surfaces, such as light reflecting off a lake or the hood of a car. Somewhat like the way Venetian blinds control the amount of sunlight passing through a window, polarization blocks as much as 50% of the light passing through a lens. The person looking through the lens can still see clearly in most cases, but it reduces the brightness and glare of light. Higher quality lenses have film laminated between two layers of lens material, preventing it from being scratched or rubbed off. In addition, the more dense the film is, the more polarization it provides.

Product Details
HD Polarized Lens
Customized for Driving
Rimless Design
Fashion Trend
Silicone Nose Pad
Adjustable, Ultra Soft
Zero Pressure
Spring Hinge
Flexible Temple Opening
Streamlined Body
Alloy + Rubber Tip
Comfortable for Wearing


Features:
1. Polaroid TAC Lenses, Safe for Driving
2. 100% Anti UV400, Anti-glare, Anti-reflective, Polarized
3. Classic Rimless, Photochromic Sunglasses Polarized Chameleon Lens
4. Yellow Lens for Night Driving
5. Factory Direct Price
6. Vintage Design, Retro and Fashion
7. Good for Driving, Fishing, Beach, Travel, Outdoors
Specifications:
Sunglasses Frame Material: Metal Alloy
Sunglasses Lens Material: Polarized TAC Lenses
Sunglasses Color: Gunmetal, Black
Lens Color: Solid Grey, Yellow Lens